The following Italian Greyhounds are available for adoption from Missouri / Kansas Italian Greyhound Rescue.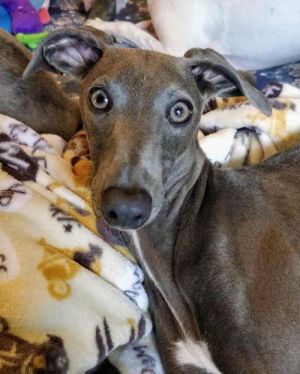 Italian Greyhound
Liam is a sweet, playful biggy iggy who will be turning 1 in November. He must have a 6 ft privacy fence and at least one other playful dog in the home. He will not be adopted to a home with birds or cats. Liam is such a good boy who loves to play all day! He knows sit and has been doing well with going potty outside and on a potty pad when on a regular schedule. Like all IGs, he needs extra encouragement when the weather is less than perfect. He loves squeaky toys and cuddling with his foster parents and iggy foster brothers. Liam will only be adopted out within Kansas, Missouri, or neighboring states. He is neutered, up-to-date on shots, heartworm negative, and on preventative.
Young, Male, Medium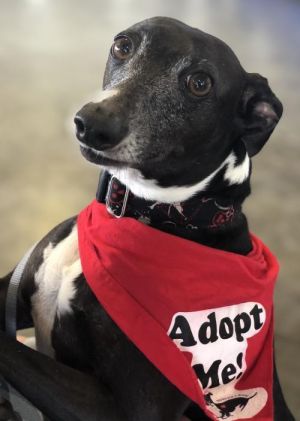 Italian Greyhound
Spayed/Neutered
Up-to-date with routine shots
Hi, I'm Roly. I am a superhero and my number one power is companionship! Foster mom is working with me on "boundaries" so that I only use my super powers for good and when invited. My other power is the zoomies. I love going outside several times a day to race around the fenced yard. I'm also a Velcro dog, with the amazing ability to be beside you whenever possible. From my foster mom: Roly needs someone who will meet his strong need for affection. A fenced yard is preferable so he can get daily exercise. Roly does okay with cats. He'll need a home without small children as he has been known to nip when small hands are tugging on him. Roly is a biggy iggy who thinks he's a lap dog. He's working on losing some weight to increase his energy and overall health, but even when he's at an ideal weight, he'll be a bigger boy around 20 pounds. He strongly prefers the Big Bed with his humans and he would be heartbroken to sleep anywhere else. Roly is excellent on a leash. He is house trained and lets you know when he needs to go out. He may be slow to warm up to new people, but as soon as he decides you're okay, he'll be your best friend.
Adult, Male, Small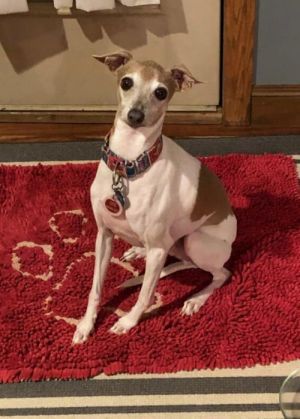 Italian Greyhound
Spayed/Neutered
Up-to-date with routine shots
Otis is nervous as first in new situations, but once he feels comfortable with people, he prefers to be in the same room as his family. He does not like when his people are out of site! He likes to sleep under covers and would love to sleep in bed with his forever family. Otis would do well as an only dog or with a small female dog sibling, although he's much more interested in interacting with his people than with other animals. He had negative experiences in his past home with large dogs so he will not be adopted to a home with a large dog. Otis is fine with cats but needs a home with no young children.. He's been doing well with his potty habits but does require a fenced yard to help him continue to be successful. Otis does well on leash and in a crate. He's had a dental, is neutered, heartworm negative, and up to date on his vaccinations. 12/5/18 7:23 PM
Adult, Male, Small